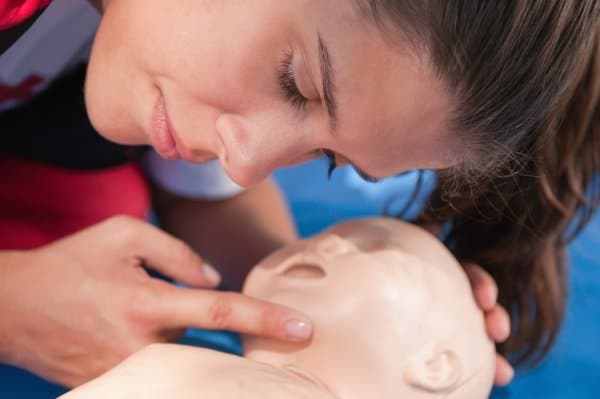 Upcoming Dates
Mon, Aug 15:

6:00PM- 7:30PM

Session is Full

Sun, Aug 28:

10:00AM-11:30AM

Session is Full

Thu, Sep 1:

6:00PM- 7:30PM

Limited Space Remaining

Tue, Sep 13:

6:00PM- 7:30PM

Session is Full

Mon, Sep 19:

6:00PM- 7:30PM

Limited Space Remaining

Wed, Sep 28:

6:00PM- 7:30PM

Session is Full

Thu, Oct 6:

6:00PM- 7:30PM

Session is Full

Mon, Oct 17:

6:00PM- 7:30PM

Session is Full

Thu, Oct 27:

6:00PM- 7:30PM

Tue, Nov 8:

6:00PM- 7:30PM

Tue, Nov 29:

6:00PM- 7:30PM

Mon, Dec 5:

6:00PM- 7:30PM
Infant and Child CPR (In-Person)
From: $60.00 per person
Please note: This is the IN-PERSON version of this class, and it will meet in our studio in Devon.
The research is clear: CPR training saves lives. The ability to provide immediate care to your infant or child is invaluable. This course is intended for parents, grandparents, babysitters and caregivers.
Infant & Child CPR is a 90-minute, fast-paced course with video, discussion and mannequin demonstration. Your focus guarantees your mastery of the material. You will be taught by experienced registered nurses who are also certified AHA CPR instructors.
For this course, an "Infant" refers to a baby who is between 0 and 12 months of age. A "Child" refers to a young person who is anywhere from 1 year old through the age at which they reach puberty.
*Note: this is a non-certification course by the American Heart Association. Please email us at info@mlfed.com to inquire about CPR certification.
Taught By:

Ideal For:

Parents, Grandparents, Babysitters, Caregivers

Duration:

1.5 hours (90 mins)

Location:

MLFEd Studio, Devon
Topics Covered
Choking
Cardiac arrest
Respiratory arrest
AED machine use
Reserve Your Spot