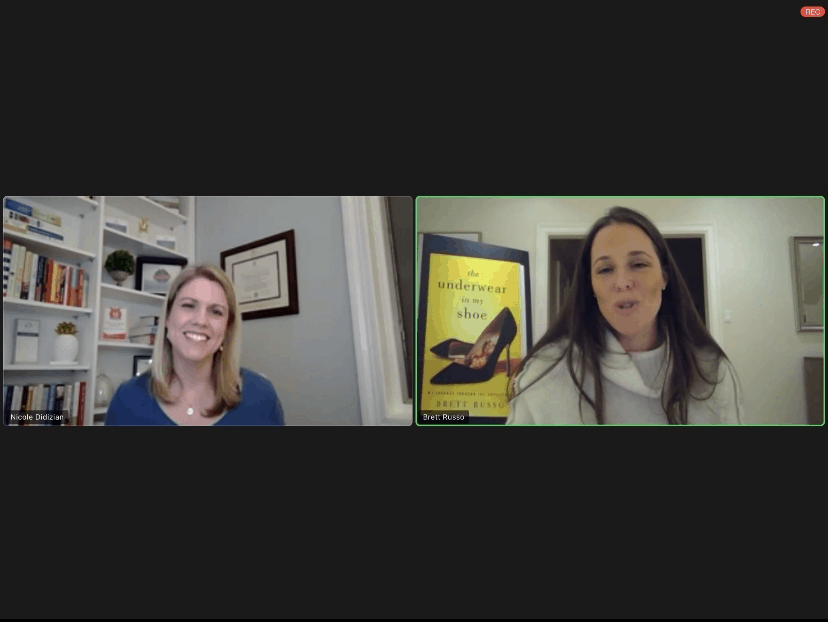 On Wednesday evening January 27th, MLFEd founder Nicole Didizian had the opportunity to host a live book talk with bestselling author Brett Russo.
Brett's book "The Underwear In My Shoe: My Journey Through IVF, Unfiltered" was released at the end of 2020 and has been a source of comfort and support to women undergoing their own infertility journey ever since. With the pandemic making the isolating experience of infertility and/or IVF feel that much more lonely, Brett's story meets women where they are on their path to parenthood and provides a sense of hope.
Viewers shared:
"Brett was great! Brought tears to my eyes!"
"Thank you for this! It was a wonderful talk and so heartfelt!"
"I could relate so much to what Brett said…it truly was the hardest thing I had ever been through. I really appreciated hearing her experience."
"I found the talk to be so insightful and really helpful. There's a lot of fear…hearing from someone that has gone through it (through many cycles, too) provided a much needed level of comfort."
For more information about the book and the author, visit www.brett-russo.com or follow Brett on Instagram at @brusso18.
For more information about the events, classes and meetups happening here at MLFEd, follow @mainlinefamilyeducation on Instagram and/or Facebook.
Watch the full interview below:
https://www.mlfed.com/wp-content/uploads/2021/01/20210128_192702056_iOS.png
622
828
Nicole Didizian
https://www.mlfed.com/wp-content/uploads/2019/02/Logo-Horizontal@3x.png
Nicole Didizian
2021-01-28 14:35:34
2021-01-29 09:03:59
An IVF Journey Book Talk, LIVE with author Brett Russo